Temple University Hospital has opened a COVID-19 Vaccine Clinic in Fort Washington. Students ages 16 and above are now eligible to receive the vaccine. This event has no affiliation with Gwynedd Mercy Academy High School.
Appointments may be scheduled by calling 215-707-6999.
Temple University Hospital COVID-19 Vaccine Clinic
515 Pennsylvania Ave Suite A
Fort Washington, PA 19034
You do not need to be a Temple Patient to sign up.
Enrollment contracts and FACTS payment plan information were sent from the Business office via e-mail. Please contact the business office with any questions.
Kate St. Clair Kstclair@gmahs.org or Judy Morrissey Jmorrissey@gmahs.org
APR. 26
One Week for GMA
APR. 27
Arts Festival
APR. 30
Mercy Mingle/Mania
MAY 7
Sophomore Retreat
MAY 13
No Classes
MAY 14
Senior Prom
The Spring Arts Festival is this Tuesday, April 27! The Visual Arts Show will begin at 5PM and the Performing Arts Show will begin at 6PM. Due to COVID restrictions, guests must complete a screening form upon arrival. Students and staff may use Tuesday's RUVNA screening upon arrival. The live stream of the music portion of the evening will begin at 6PM. If you have any questions, please email Mrs. Trish Giangiulio at pgiangiulio@gmahs.org.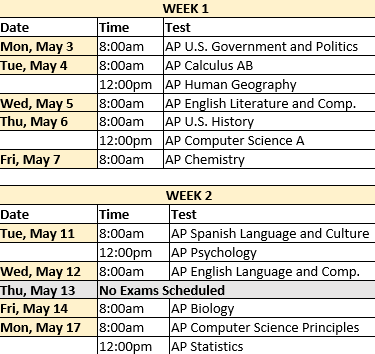 AP Testing will be taking place at Gwynedd from May 3-May 17. All AP students are expected to take their AP exams in accordance with the schedule below. Any students with a serious, extenuating circumstance that will prevent them from testing on the date of their test will be required to take their make-up test in school at a later date. We wish all of our AP students the best as they prepare for their exams in the coming weeks!
Gwynedd arts students have been very busy this semester! Angelina Tornetta '21, Art Scholar and AP Art student, recently researched Art Nouveau and did a presentation on Tiffany Glass. She is currently completing her independent stained glass project. Meanwhile, ceramics and sculpture students have been throwing on the pottery wheels. They are working to complete a place setting of a plate, bowl, and cup—just in time for an outdoor picnic at the end of the school year!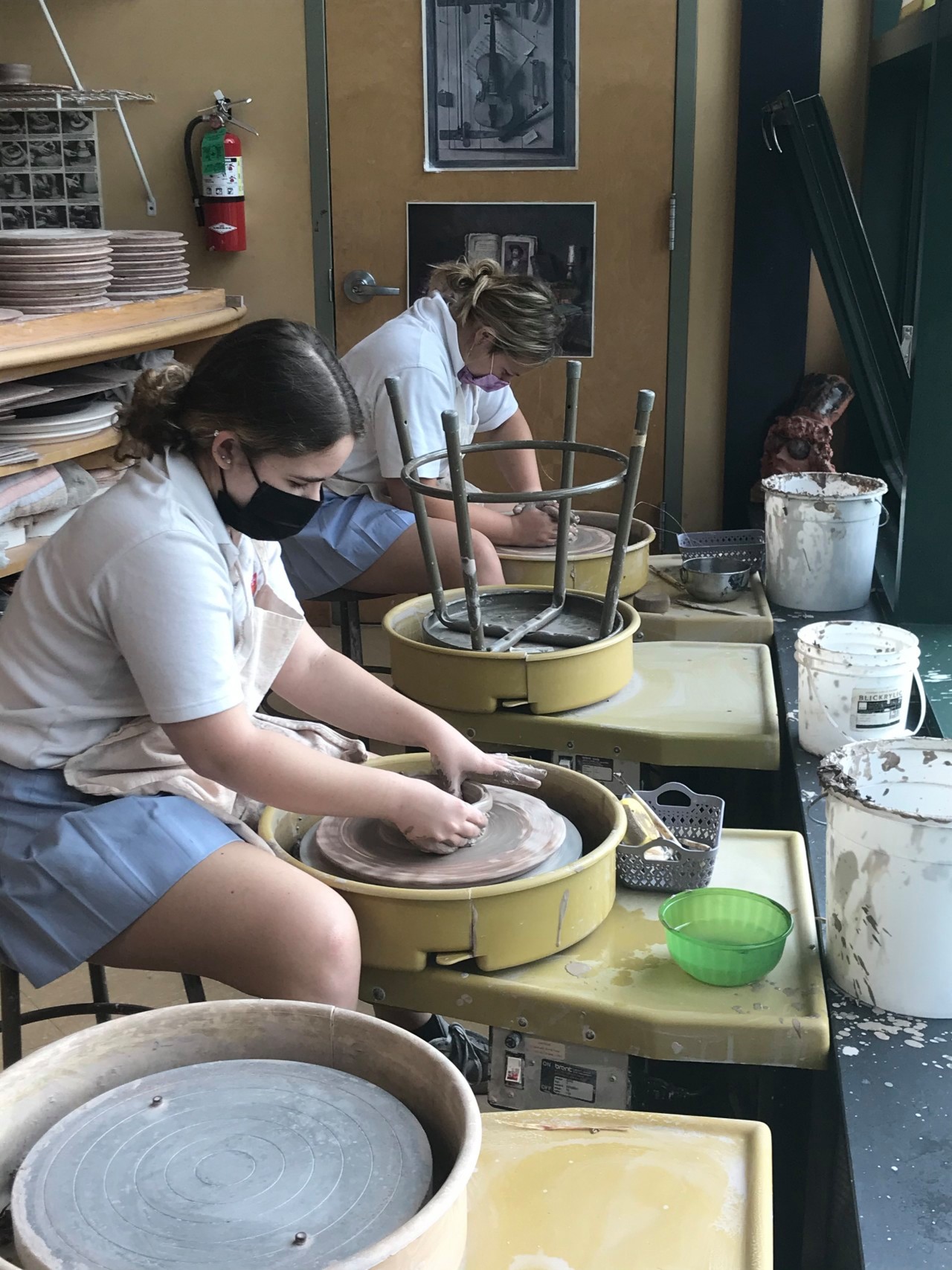 Reminder for Seniors to meet with their College Counselor to wrap up the college process and complete a graduation requirement. We are collecting scholarship data so please submit that information to Mrs. Damm or Mrs. Howell.
Ms. O'Neill's Anatomy Class has been measuring Electrocardiograms in class and modeling clay hearts and organs for their Cardiovascular unit.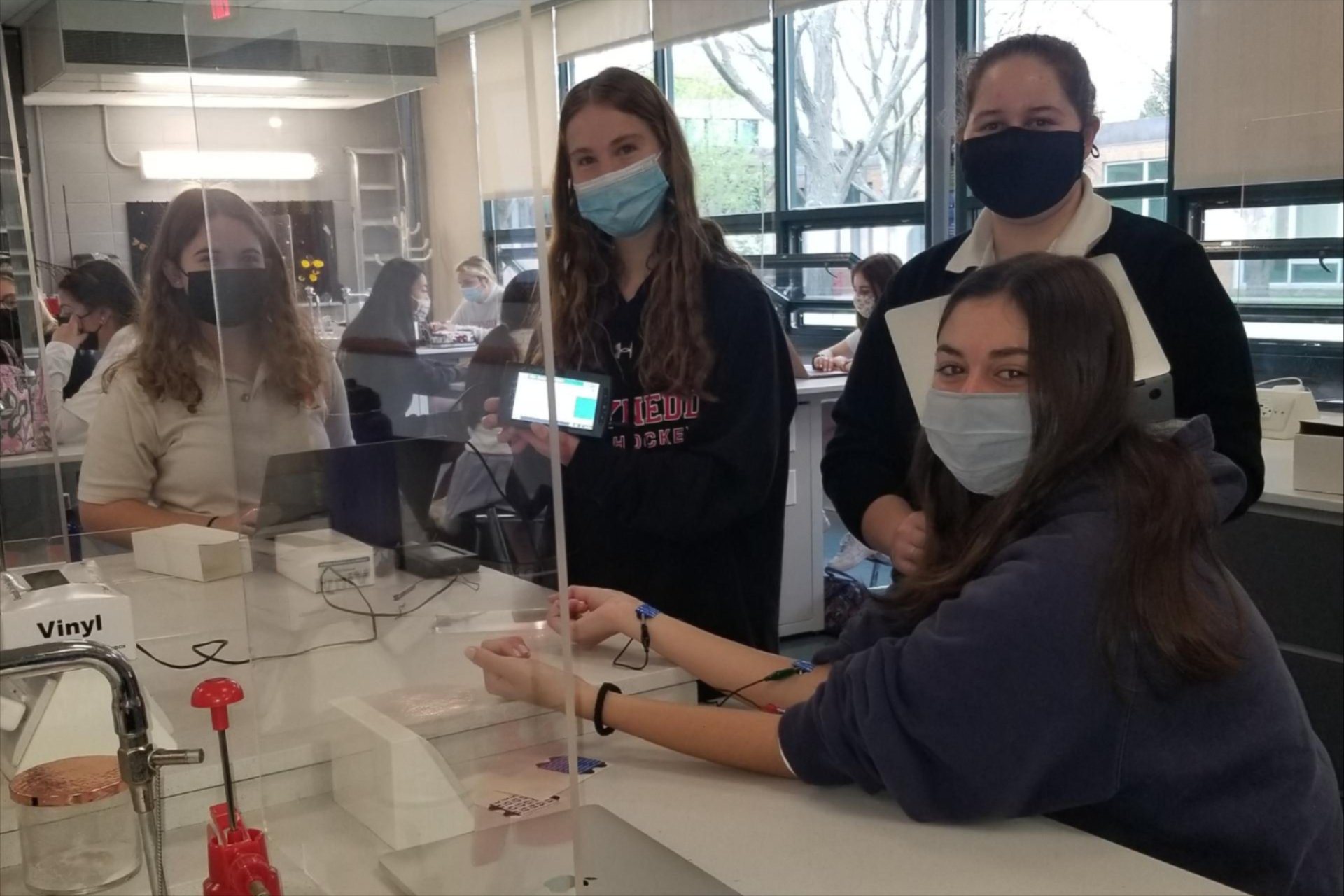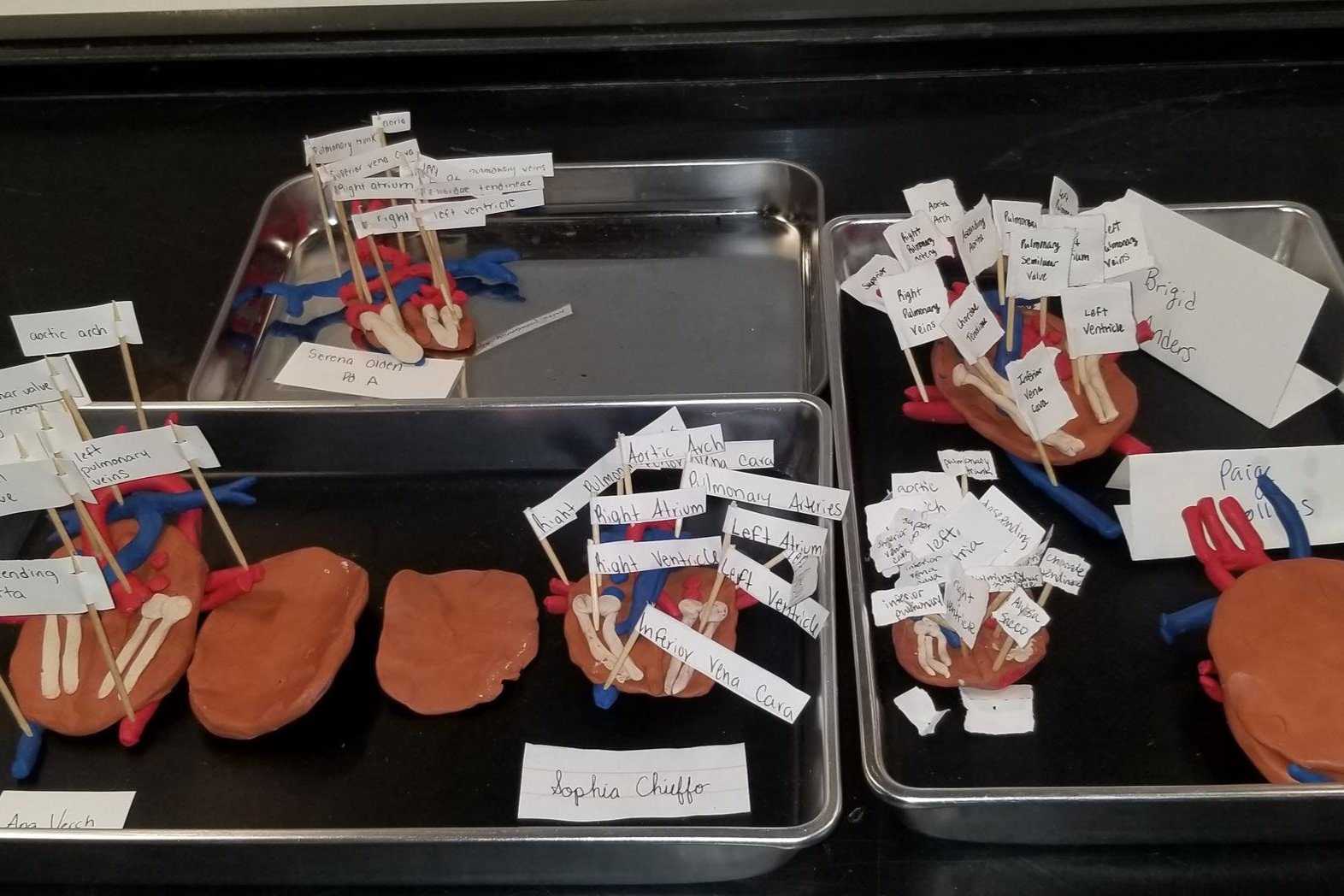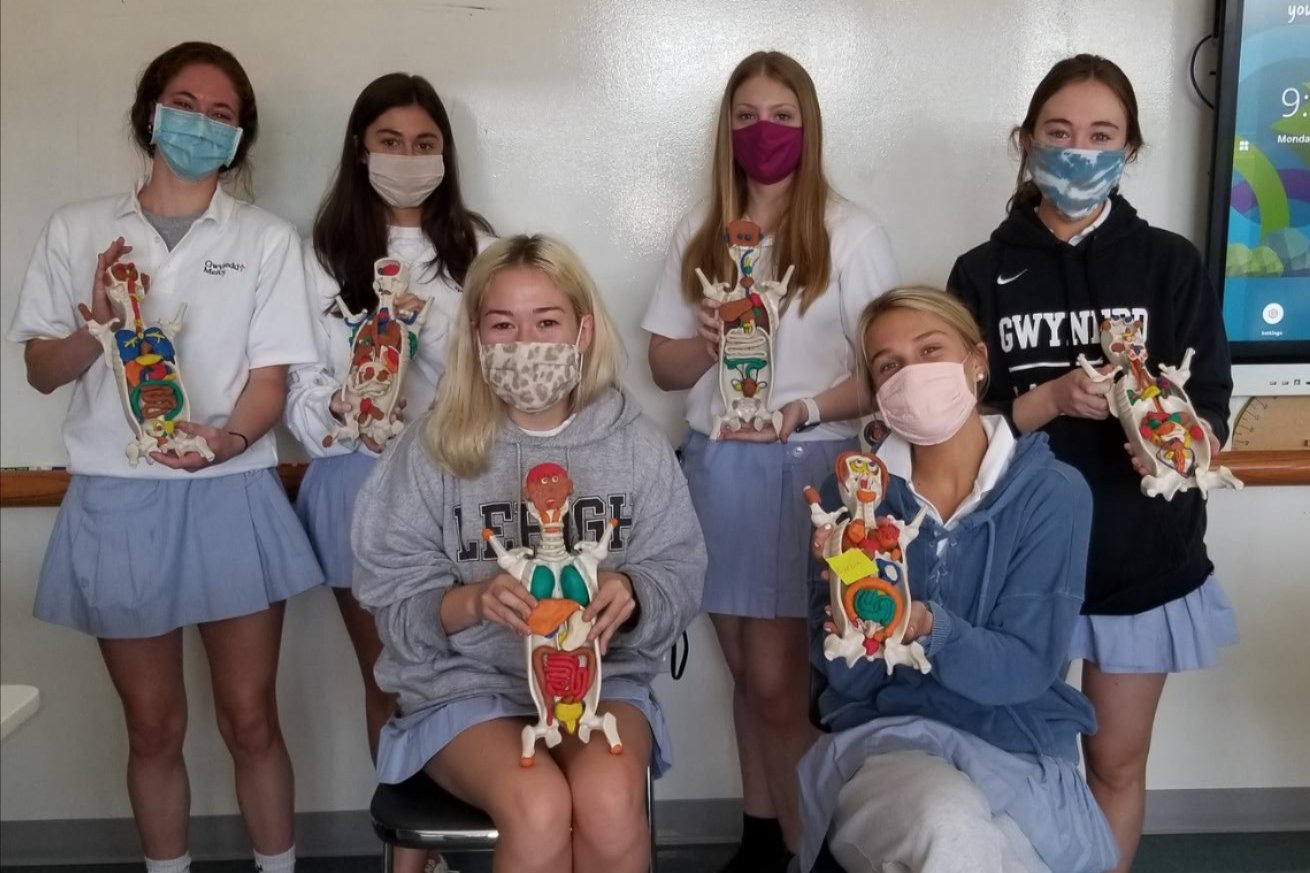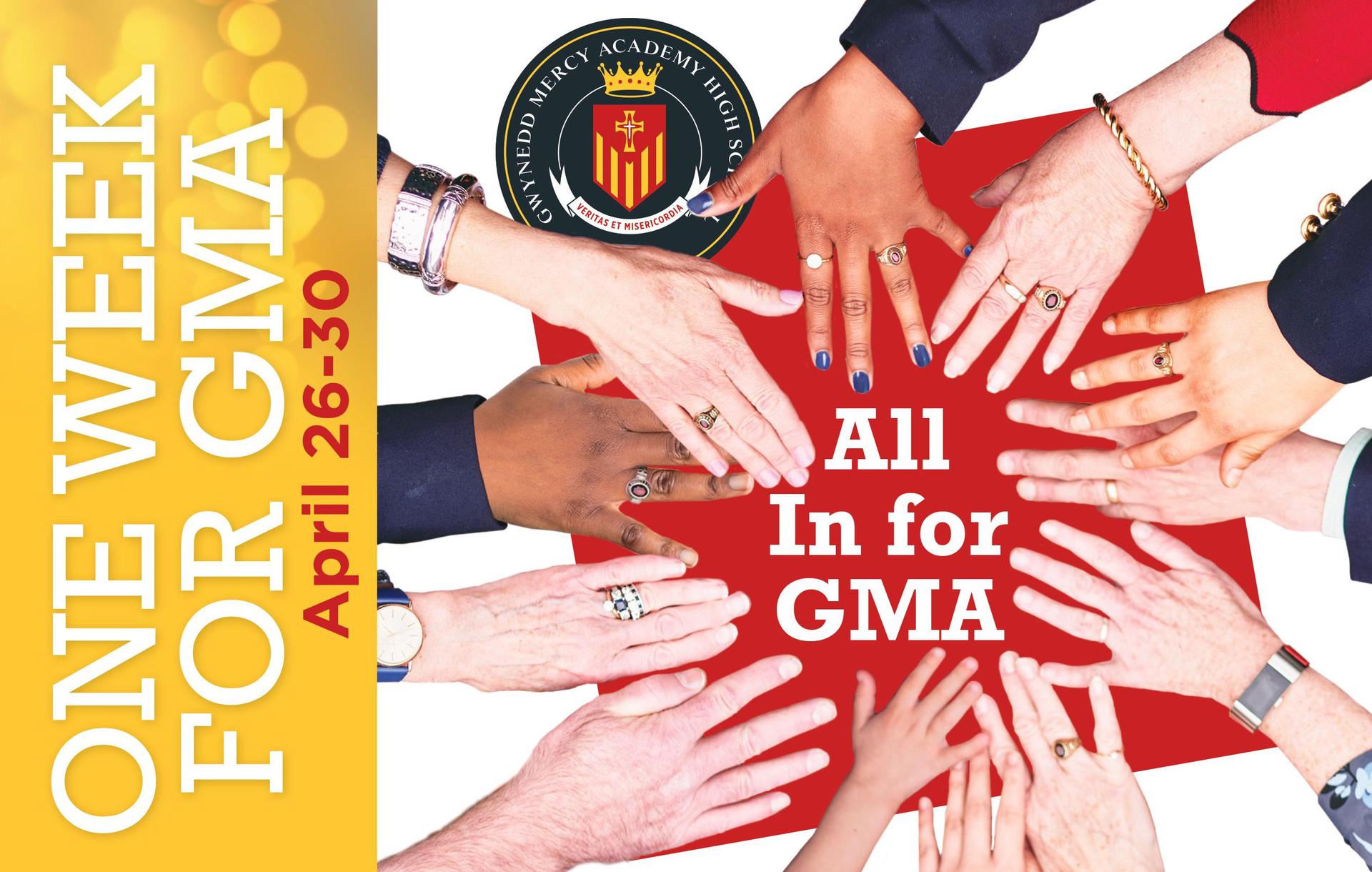 Calling all Parents, Students, Faculty and Staff!
This week—Monday, April 26 through Friday, April 30—we have the opportunity to unlock up to $80,000 in challenge gifts for GMA simply by making a gift of ANY amount to the Mercy Fund.
The Mercy Fund supports every student and so many initiatives beyond the cost of tuition; and, if you so choose, you can direct your Mercy Fund gift to an area that matters most to you, such as:
President's Priorities – Meeting GMA's greatest needs and highest priorities
Catherine Learning Program – Supporting students with mild learning differences
Diversity, Equity, Inclusion & Justice (DEIJ) Initiatives – Strengthening community
Extracurricular Activities – Promoting the arts, athletics, clubs, and more
Financial Aid – Ensuring a GMA education/experience for families with demonstrated need
Wellness Programs – Nurturing student health and well-being
Your Personal Priority – Giving to what matters most to you




You can easily give online, through Venmo @GwyneddMercyAcademyHSGiving, or send in a check made payable to "GMAHS" with "One Week for GMA" in the memo line.
Follow our progress on email and social media throughout the week. We are grateful for your support.
Let's be ALL IN FOR GMA!
Softball
April 20 vs. Villa Maria (W) 11-4
April 22 vs. Merion Mercy (W) 11-6
April 23 vs. Morrisville HS (W) 15-0
Lacrosse (Varsity)
April 22 vs. Merion Mercy (W) 10-8
Continue to follow @gmahsathletics on Instagram for highlights and live updates!
On Sunday, April 18th, the Gwynedd Crew Team enjoyed another amazing day of racing in Philadelphia at Manny Flick #2.
1st - Lightweight 8+
3rd - JV8+ and Freshman 8+
4th - Novice 4+ and V4+
For more updates and highlights, be sure to follow Gwynedd Crew on Facebook and Instagram!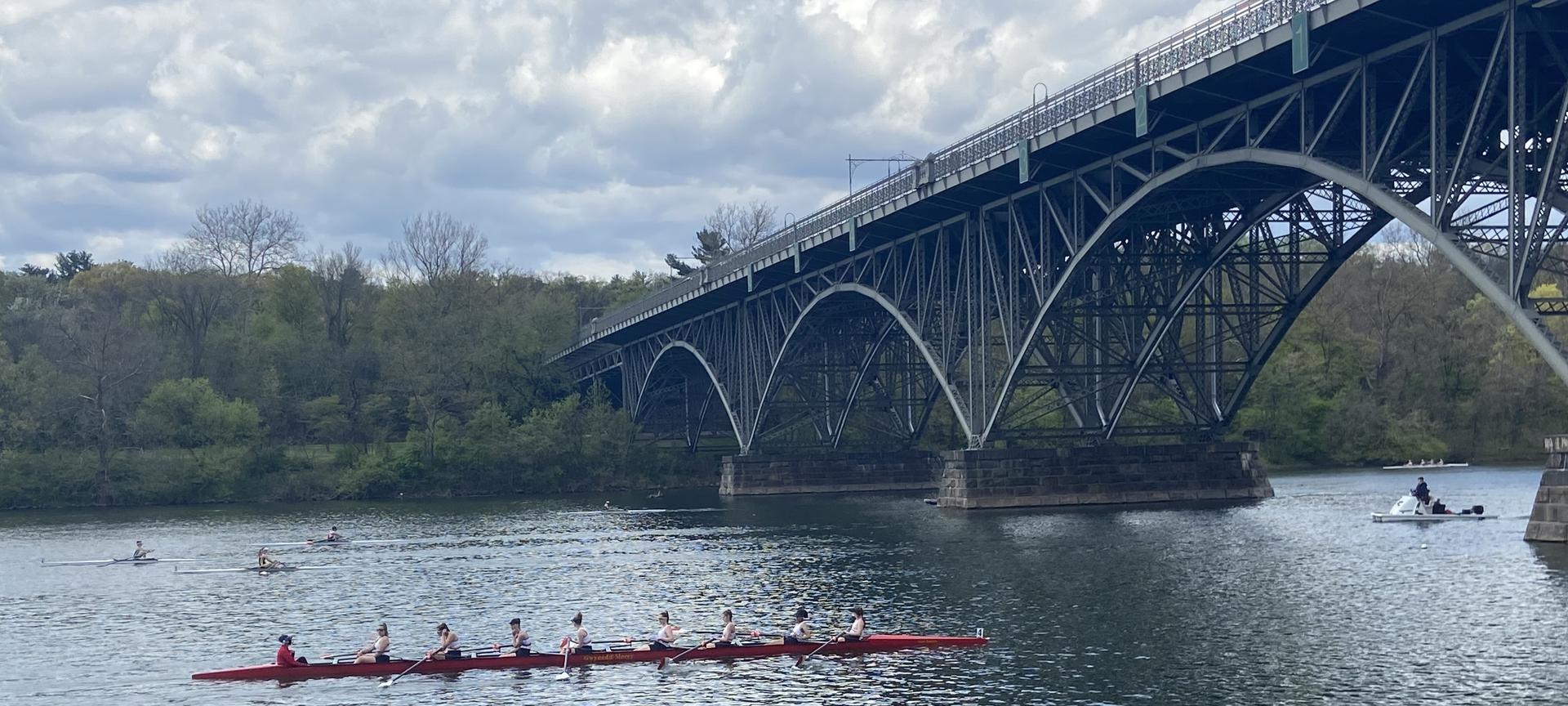 Mission Week: Exploring the Critical Concern of Racism
Mission Week was held on Monday, April 16th through Friday, April 23rd. With the Critical Concern of Racism as our focus, students recited a diversity prayer daily and engaged in reflection activities led by members of the Diversity Club.
Students also learned about structural racism through the lived experiences of June and Angie Provost – modern day sugar cane farmers from Louisiana. During this week's activity periods students listened to and discussed a podcast series entitled 'Land of Our Fathers' which provided insight into the ways in which structural racism manifests through land and banking practices. Students also examined how racial stereotypes and the seemingly invisible nature of structural racism makes it difficult to both detect and believe.
Liturgy was also held on Friday, April 23rd.
Students will participate in an additional educational component on structural racism in May to further aid their awareness and understanding of this critical concern.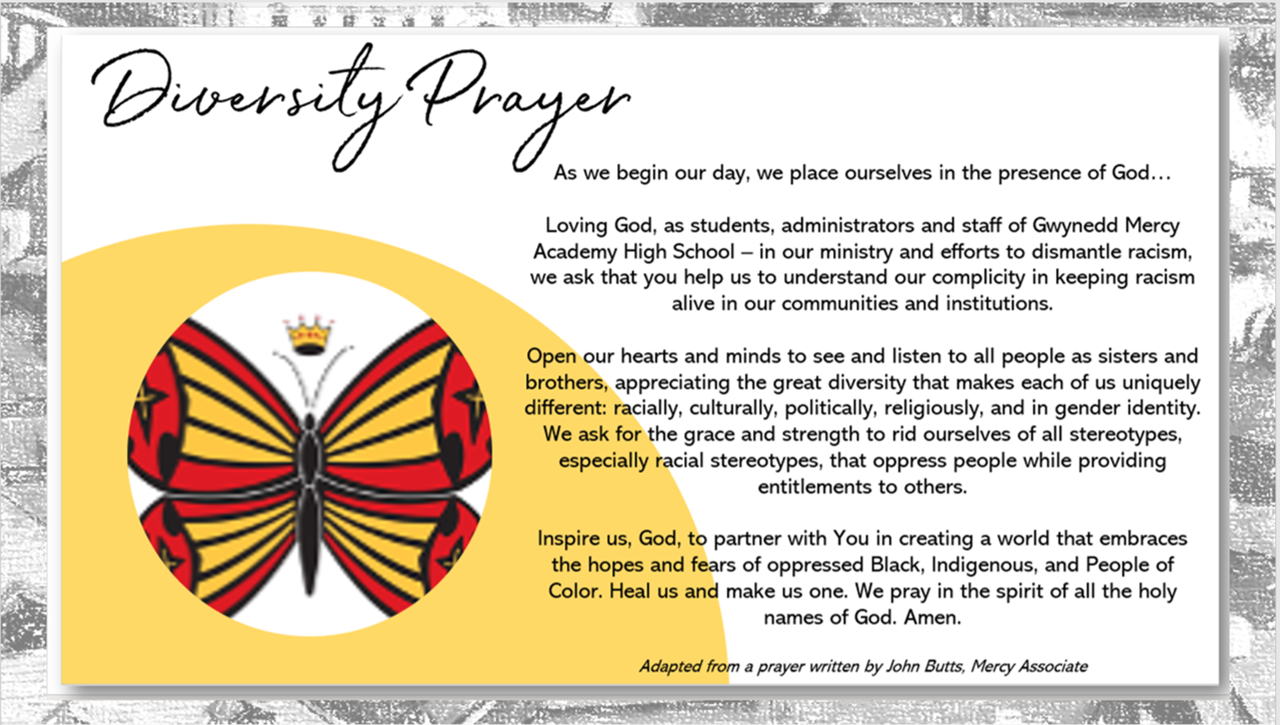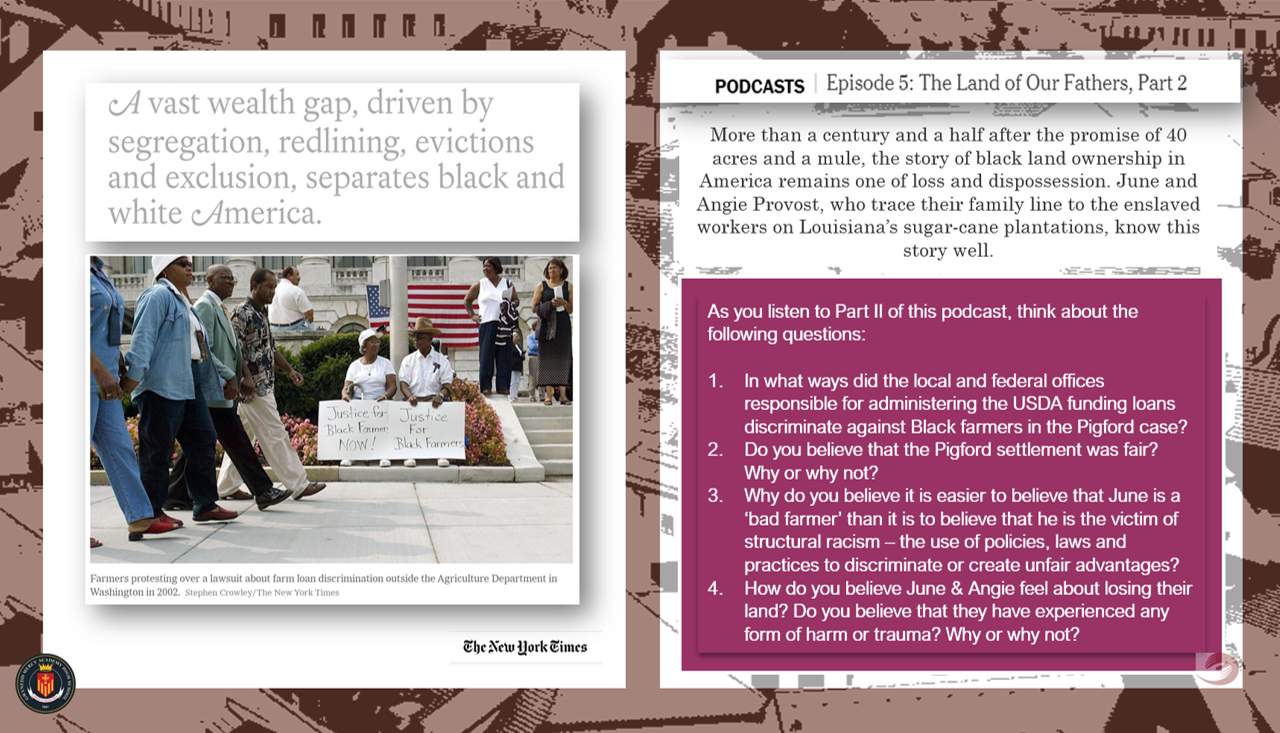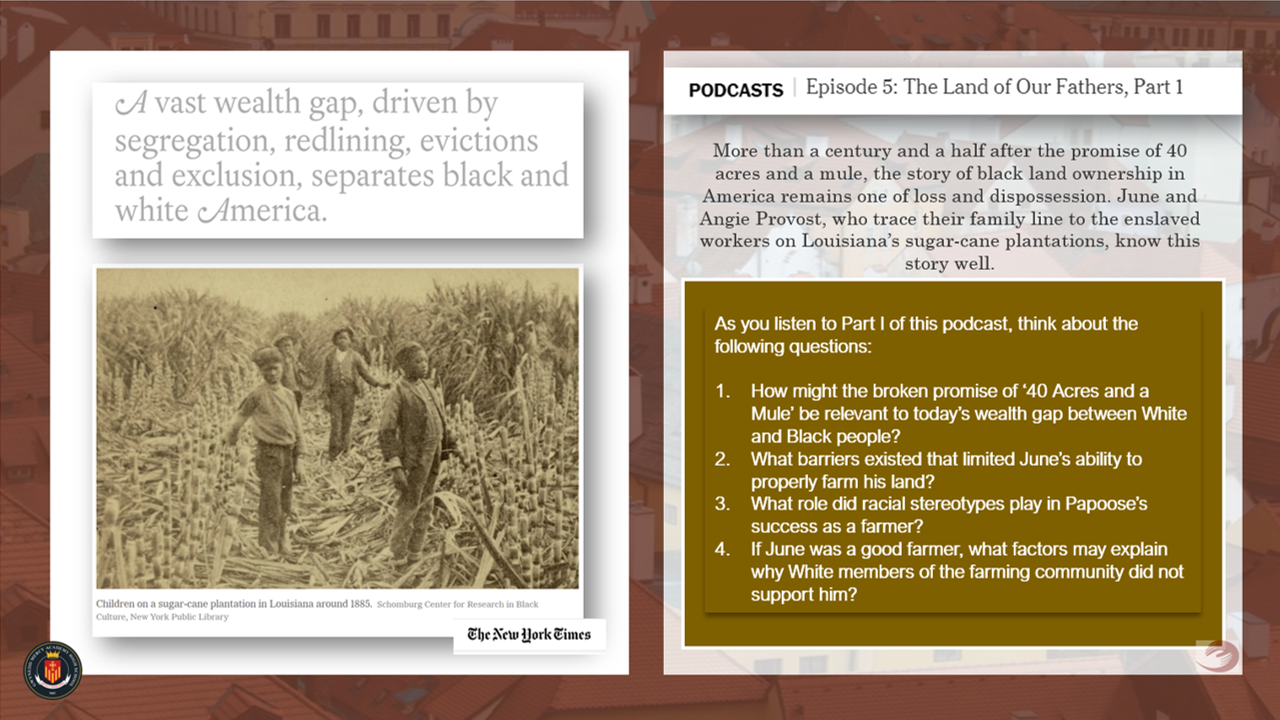 Understanding Anti-Asian Racism
On April 14, 2021, the Board of Trustees participated in a discussion on the history of Anti-Asian Racism in American society. Dating back to the late 1800's, Trustees learned about the various forms of federal and local legislation, social commentary and economic conditions that serves as the foundation of the Anti-Asian bias and discrimination that exists today. Trustees also explored concepts such as the 'Model Minority Myth' and the ways in which language, cultural attitudes and beliefs unfairly and falsely paint Asian-Americans as a foreign threat.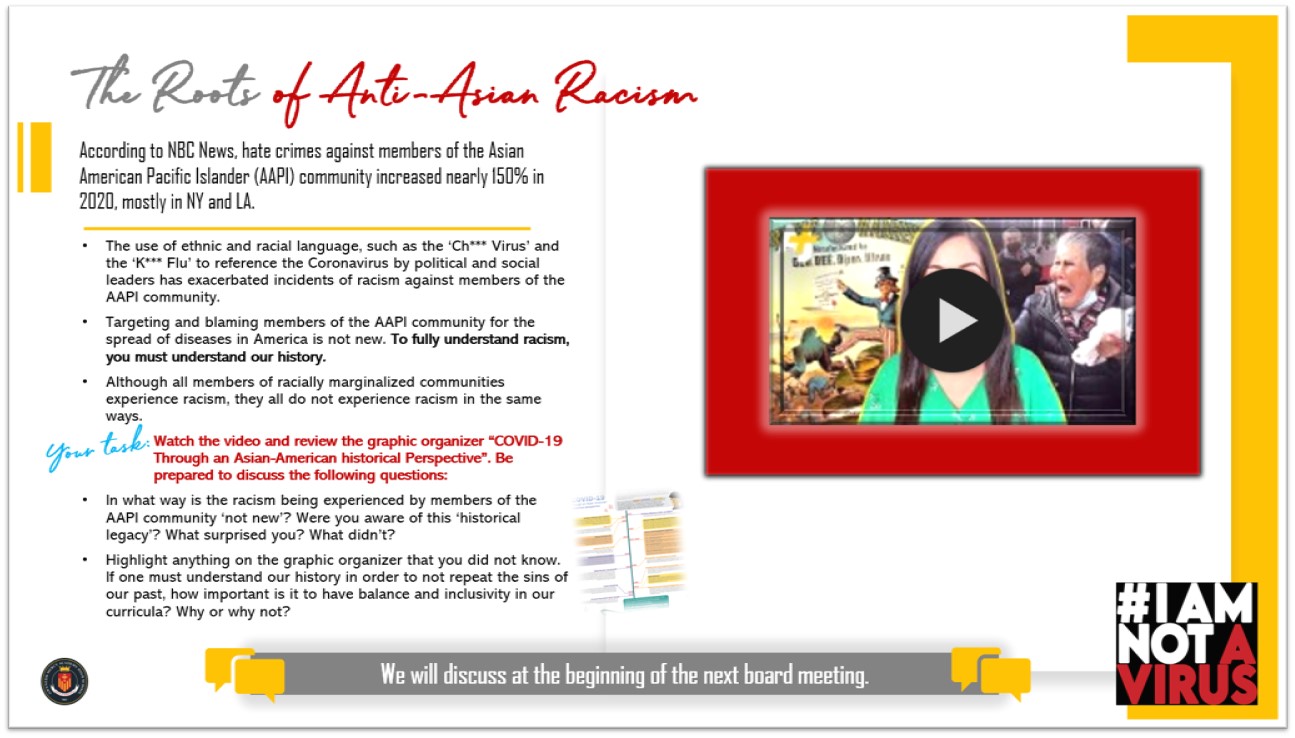 In an effort to celebrate the accomplishments of this community and to examine the ways in which we can stamp out Anti-Asian racism and hate, Gwynedd will be celebrating Asian-American Pacific Islander Heritage Month in May. If you would like to participate or learn more, e-mail inclusion@gmahs.org.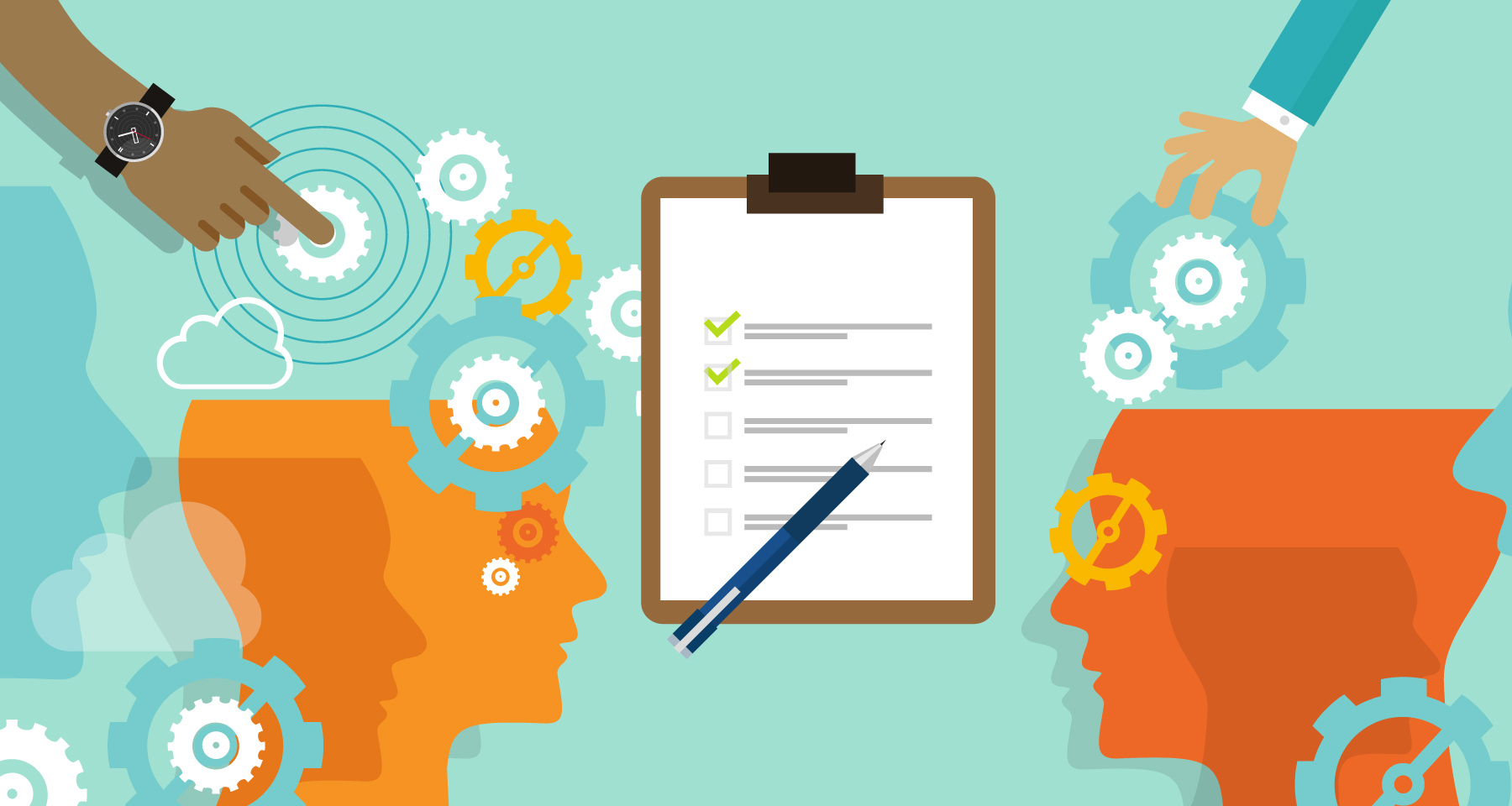 Assessment of Inclusion and Multiculturalism
The data gathering process for the Assessment of Inclusivity and Multiculturalism ended with the final day of the AIM climate survey on Wed, XYZ date. Across the community we had over 90 stakeholders participate in the AIM Discovery Conversations and over 450 stakeholders complete the AIM climate survey. We wanted to take a moment to thank everyone who dedicated some of their time and energy to share feedback about the Gwynedd community and provide their thoughts on what we can do better to advance fostering a culture and community of belonging at Gwynedd.
Next Up - Members of the AIM Steering Committee will review the Key Findings Reports from the discovery committee sessions and the AIM survey results. From there, they will draft a series of recommendations that will be shared with the Board of Trustees, Parents, Faculty/Staff, Administrators and Students over the summer. The recommendations generated from the AIM survey will be used in the strategic plan for Diversity, Equity, Inclusion and Justice.
If you have any additional questions, please e-mail inclusion@gmahs.org.
Are you looking for a summer job? Camp Girls on the Run is hiring! For more information, please email Mrs. Jennifer Guarnaccia at jguarnaccia@gmahs.org.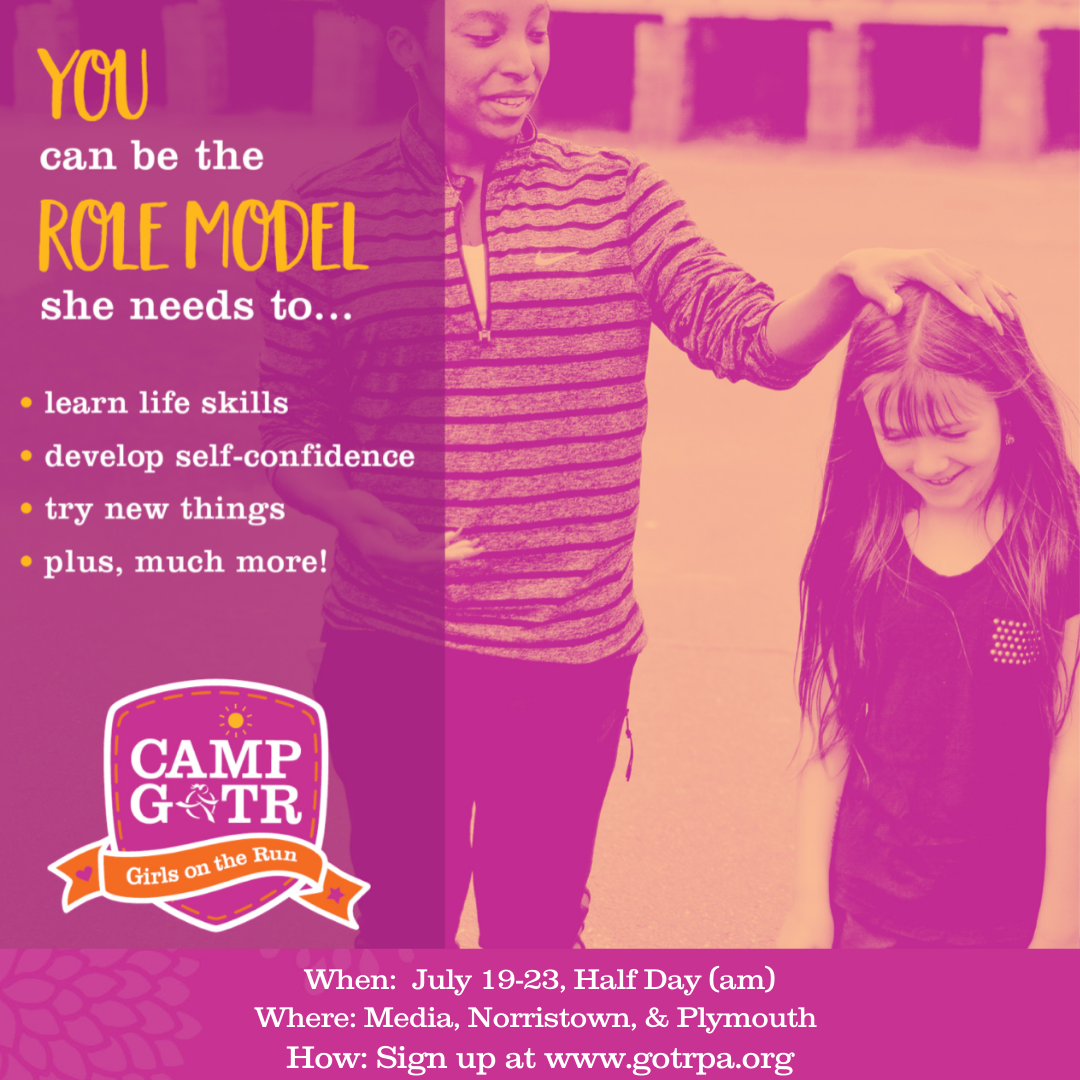 SHE IS THE FUTURE.
©2021 Gwynedd Mercy Academy High School
1345 Sumneytown Pike, PO Box 902
Gwynedd Valley, PA 19437