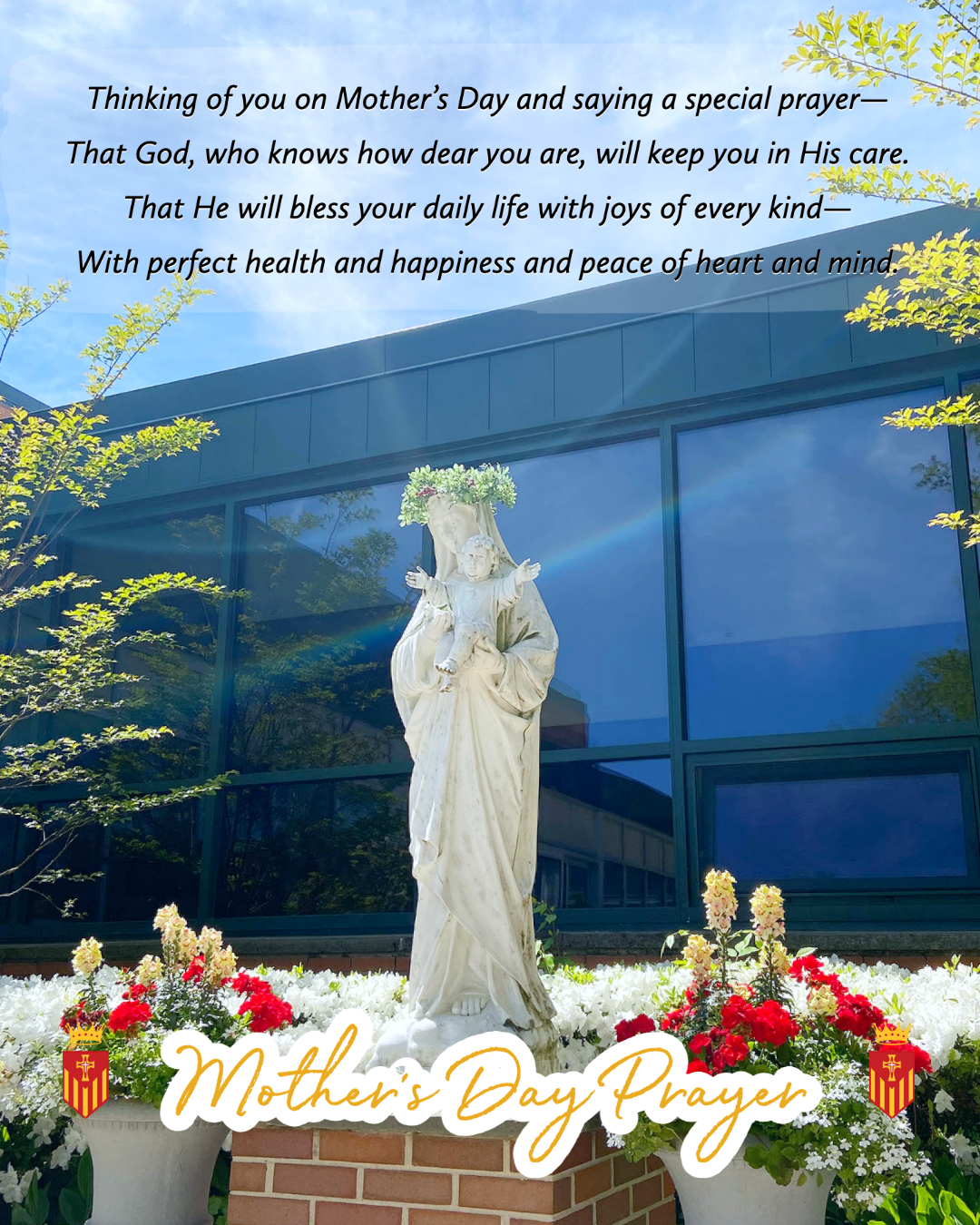 MAY 10
Food Drive Begins
MAY 13
No Classes
MAY 14
Senior Prom
MAY 18
- Internship Reception
- Fathers Club Outing
MAY 19
Mothers' Club Celebration
MAY 21
- Liturgy
- Junior Prom
In light of the recent updates to CDC guidance regarding masks, please be reminded that all sporting events and social events on Gwynedd's campus qualify as large, outdoor events and masks are still required whether you are vaccinated or not. Additionally, keep in mind that while more and more students in our community have been able to be vaccinated we are not yet a fully vaccinated population. Therefore, all students and visitors must continue to follow mask protocols during and after the school day whether inside or outside.
This week, sophomore students received the application for the Carolyn Keen '10 Memorial Scholarship. Each year, a $1500 scholarship is awarded to one current sophomore for Gwynedd's junior and senior year tuition (a total of $3000). An applicant is judged on Service, Mercy Spirit, Leadership, Character, and Academics. The online application is due on May 19 and faculty/staff recommendation requests were due on May 7. The scholarship winner will be announced at the Class Day Assembly on Thursday, June 3, 2020. Please send any questions to Director of Alumnae Engagement Erin Reimel '12 at ereimel@gmahs.org.
On May 12, LEAD Council is asking all members of the Gwynedd community to wear red to show support for Kellan Ford, the son of Kristen Kane Ford '00. For more information, click on the flyer or email Mrs. Jennifer Guarnaccia.
SOPHOMORE CLASS RING MEETING
Sophomores received a packet in homeroom on Friday, April 30 pertaining to ordering a class ring. Tom Casey, our representative from Jostens, will hold a Zoom meeting on Tuesday, May 11 at 6:30PM to describe the metal choices, to go through the forms, and answer any questions you may have. The link for the Zoom will be sent via email on Monday to all sophomore families.
SCHOOL COUNSELING:
MENTAL HEALTH AWARENESS WEEK

This year's theme is Nature; spending time in nature has been found to help with mental health problems including anxiety and depression.
Some examples of connecting mental health with nature include…

Finding and getting out into nature wherever you are

Connecting with nature using your 5 senses

Exercising in nature

Combining creativity with nature (dance, sing, paint in nature)

Protecting nature (recycle, walk instead of drive if possible)

According to the Mental Health Foundation, "Mental Health Awareness Week is all about starting conversations about mental health and the things in our daily lives that can affect it."

Opportunity to talk about and acknowledge all aspects of mental health, while focusing on providing help and support to others.

The School Counselors will be holding a small event sometime next week during Lunch/WIN in recognition of Mental Health Awareness Week!
Mrs. Tobias' physical education classes have been taking their classes outdoors and enjoying some nature walks right in our own backyard.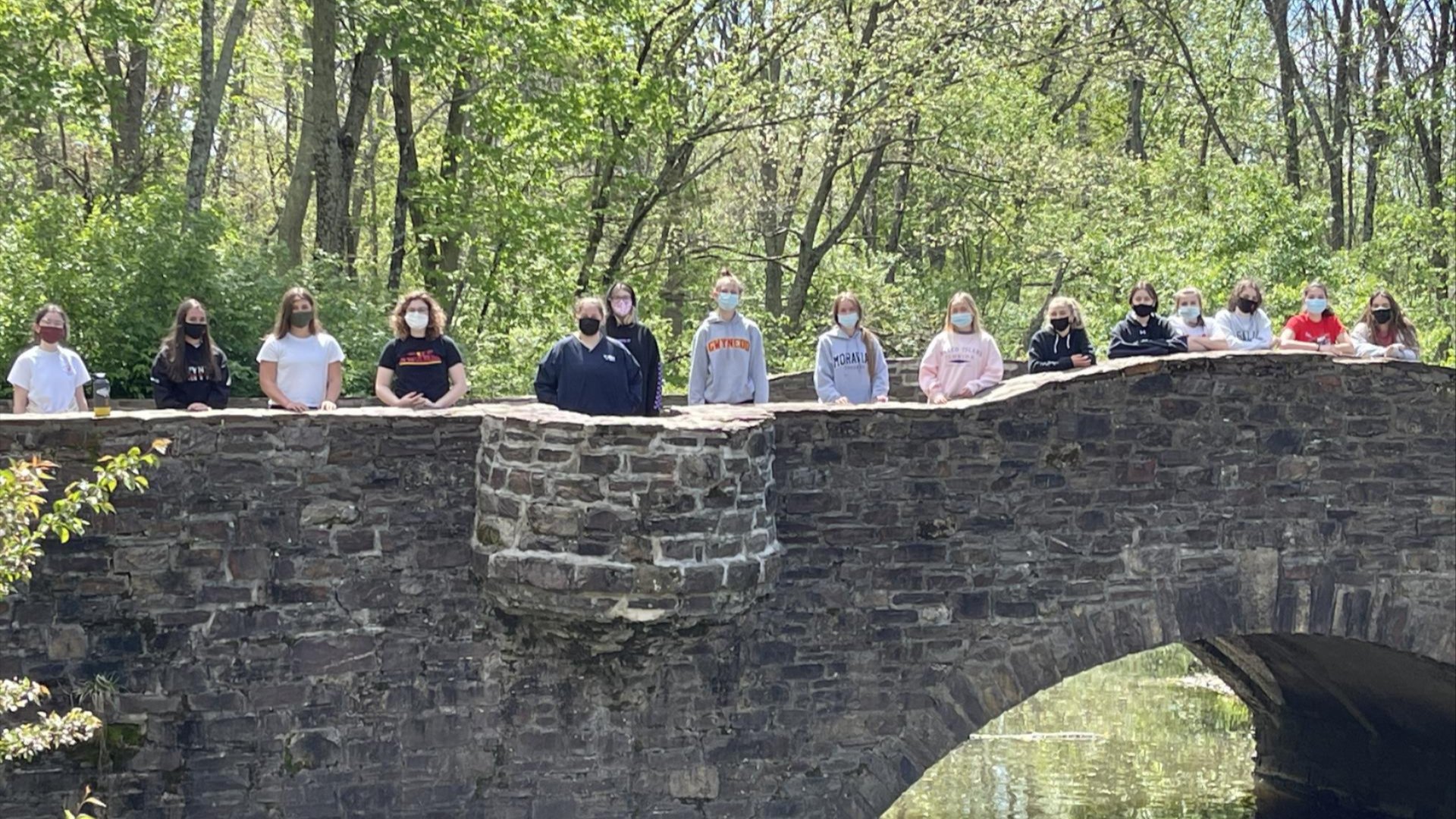 Ministry & Service is hosting a drive to support the Maddie N. Dixon Community Cupboard. The drive will run from Monday, May 10 through Friday, May 21.
Who are we helping?
The Mattie N. Dixon Community Cupboard offers food, clothing, employment assistance/job help/resume building, medical referrals, housing referrals and emergency financial assistance to serve families that are at or below the Montgomery County poverty level. They currently have around 400 active families that we help.
For over 40 years, the Cupboard has relied on the generosity of the people in the communities we serve. They do not receive federal funding and raise all of our operating costs thru the support of local fundraising efforts. Please consider donating any items found on their wish list over the next two weeks to support a great organization helping to serve those in need in our community.
Students can bring items to their homerooms.

TWO Upcoming Father Daughter Outings
Phillies Game - Tuesday, May 18, Game Time is 7:05pm vs Miami Marlins.
We will be meeting to tailgate prior to the game. Tickets are $22 per person. Once you register, please send your check into school to the attention of Jeannine Hartz/Advancement Office/Phillies. Please RSVP as soon as possible in case we need to try to get additional tickets.
Game Night - Wednesday, May 26 at Gwynedd from 6pm-8:00pm.
We will be hosting this father daughter night in the event tent in front of the school. We will be playing games like Giant Jenga, Cornhole, Connect Four, and many more games along with food and drinks. Please use the Sign Up Genius below to sign up. Once you register, please send your check into school to the attention of Jeannine Hartz/Advancement Office/Game Night. Ticket price is $15 a family. For food preparations, please RSVP on the Sign Up Genius by Thursday, May 20.

The Class of 2021 Senior Mother Daughter Celebration and Alumnae Association Induction is being held on Tuesday, May 25, 2021 at 7PM. The event will take place in the event tent at the front of school. Please RSVP by May 17. Questions can be directed to Mrs. Jeannine Hartz at jhartz@gmahs.org.
All moms/guardians are welcome to join us on Wednesday, May 19 from 6:30 -8pm in the Event Tent for our last social and meeting of the school year. We will have appetizers and cocktails to celebrate our successful 2020 -2021 school year. We look forward to seeing many of you in person!
Softball
05/03 vs. Merion Mercy (WIN) 9-0
05/04 vs. Villa Joseph Marie (WIN) 3-1
Lacrosse
05/04 vs. Villa Joseph Marie (WIN) JV & Varsity
Continue to follow @gmahsathletics on Instagram for highlights and live updates!
Congratulations to Gwynedd Crew who captured top honors at City Champs last weekend! The Lightweight 8+ finished in 1st place and was awarded the Coach Michael McKenna Trophy. The JV8+ came in strong with a 3rd place finish! The team will be competing in the Stotesbury Cup Regatta on May 14th and 15th. Good luck to all of our rowers and coxswains next weekend.
LW8+: Alannah Cunningham '21, Olivia Guarnaccia '22, Erin Ernst '23, Katharine Morgan '21, Grace Cheeseman '22, Brynn Romberger '22, Samantha Yuen '23, Ava Gross '23, and Maddie Gibson '22
JV8+: Grace Heenan '22, Kate O'Connell '22, Rose Imbesi '22, Katie Hess '22, Mia Van Mater '22, Bryn Delaney '23, Madelyn Markey '22, Alaina Holder '23, and Mara Howard '22.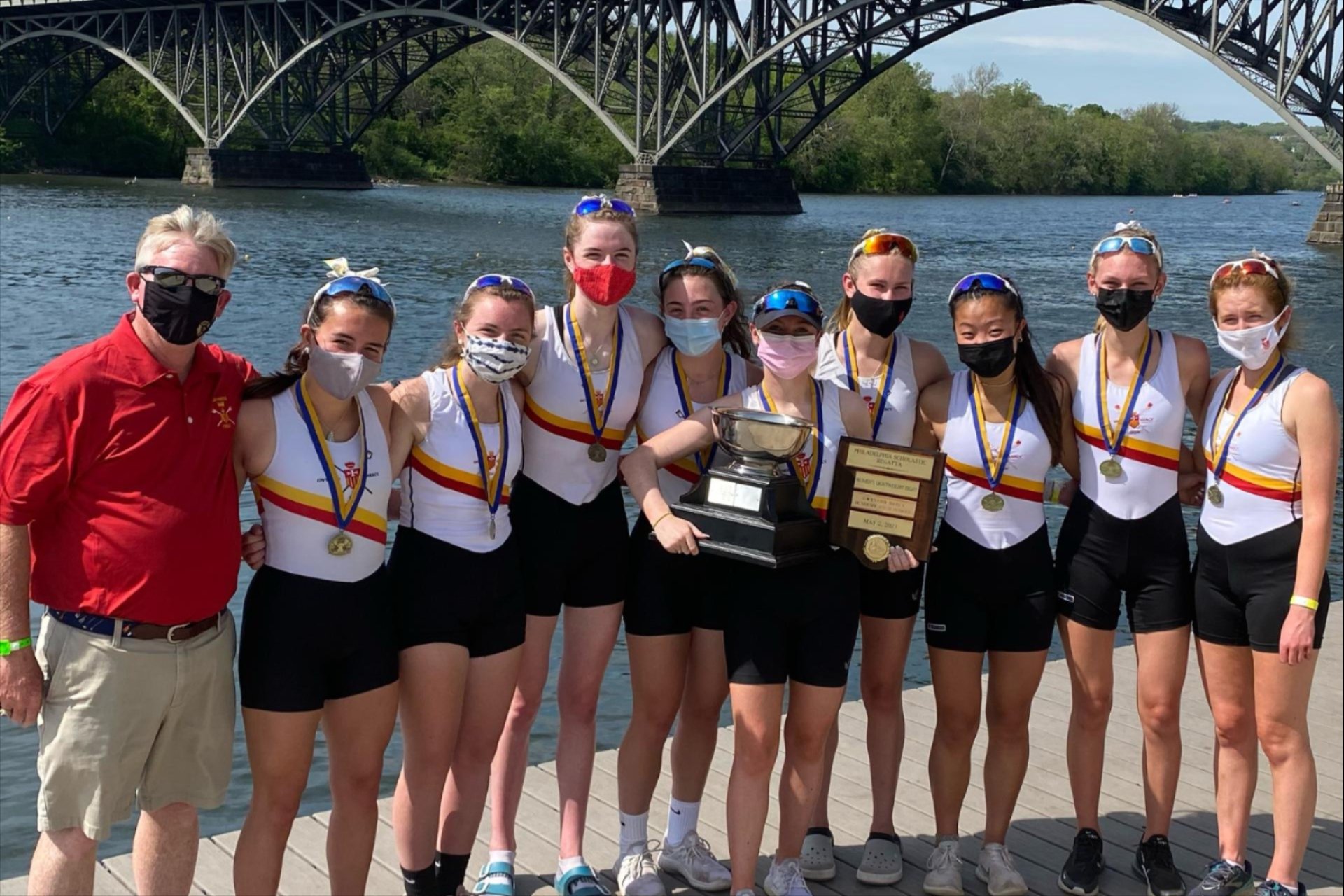 Last fall, four Gwynedd students — Ava Harvest '23, Mia Van Mater '22, Sahiba Tandon '21 and Jordan White '21 — attended the Student Diversity Leadership Conference (SDLC) sponsored by the National Association of Independent Schools (NAIS). SDLC is an annual conference that is uniquely and specifically designed for independent school students who have a high interest in diversity, equity, inclusion, and justice issues. Upon returning from the conference, students are expected to pitch to their school's administration 1-2 initiatives that will advance the school's DEIJ goals.
The expanded Black History Month programming in February was comprised of this group's first initiative. Their second initiative is "PAL 2.0" which was piloted at the Sophomore Retreat on Friday, May 7th. (PAL stands for Peer Advisory League and is a longstanding peer mentoring program for all Gwynedd Mercy freshmen to help ease their transition to high school and integrate them socially and academically into the high school community.)
The purpose of PAL 2.0 is to create consistent space for student-led, peer-to-peer discussions about social justice and equity issues, current events and the Critical Concerns of Mercy. During the Sophomore Retreat, trained peer facilitators lead students through a practice of 'Merciful Discourse', strengthening students' listening skills, empathy, and their awareness and understanding about others. The program is designed to build an even stronger sense of sisterhood and community within the sophomore class.
In recognition of May as Asian American Pacific Islander Heritage Month, conversations centered on stereotypes and the Model Minority Myth. In addition to an icebreaker activity, students explored their identities and stereotypes associated with them, and watched and discussed the video, "Why Do We Call Asians the Model Minority?"
Last month, during the first part of Mission Week exercises, students explored structural racism through the lens of 'redlining', housing segregation and landownership – elements essential to understanding the disparities in wealth between Black Americans and White Americans. Students listened to, reflected upon and discussed two podcasts from the New York Times 1619 Project titled Land of Our Fathers, Part I and Land of Our Fathers Part II. In it, they were able to witness the lived experiences of modern day Black farmers and the ways in which federal policies, state norms and local customs work invisibly to support racism and discrimination against members of the Black farming community.
This week, juniors and seniors continued onto part two of the discussion with a simulation exercise that helped students to better understand the ways in which policies, practices, and norms can in very real, yet seemingly invisible ways, create advantages for some and disadvantages for others. Students participated in a mash-up game of SORRY and the Racial Wealth Gap Learning Simulation to deepen their understanding of structural racism and wealth creation. Freshman and Sophomores will participate in Mission Week Part II on May 21.

SHE IS THE FUTURE.
©2021 Gwynedd Mercy Academy High School
1345 Sumneytown Pike, PO Box 902
Gwynedd Valley, PA 19437